What is a "gummy smile?"
If you look in the mirror and think that you show too much gums when you smile, then you have what periodontists call a "gummy smile."
If you have a "gummy smile" then there's good news, and then there's better news. The good news is that there is absolutely nothing wrong with you, the structure of your teeth, or your gums and jaw bone. The better news is that a gummy smile is a cosmetic issues that can be easily corrected.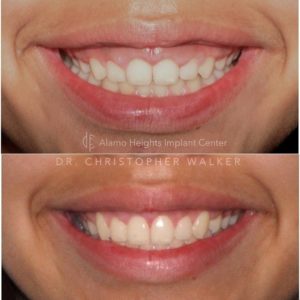 What causes a "Gummy Smile?"
A gummy smile is causes by a number of different factors, depending on the person:
Short teeth
Short upper lip
Excessive gum tissues
Gums longer than the teeth
Gum tissue overgrowth after orthodontics
Excessive bone making the gums appear bulky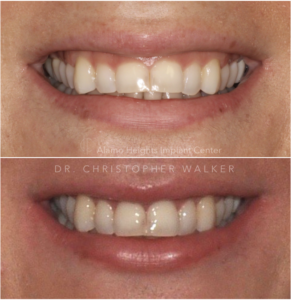 How do you correct a "gummy smile?"
Correcting a gummy smile is an easy fix at the periodontist who has several methods to show more teeth and less gums. In the past, difficult, painful, and costly surgeries were the only option to correct a gummy smile. Now, periodontists have better options to treat a gummy smile:
Crown Lengthening: where the periodontist lengthens the crown of the tooth (the part you see when you smile) by removing the gums and shaping them
Paralyze the muscles that connect to the upper lip so that it no longer raises as high
At the Alamo Heights Implant Center we offer complementary consultations so that patients with any questions about their treatment options can get them answered at no cost to them.
Alamo Heights Implant Center is located in Alamo Heights, San Antonio, TX 78209. Dr. Christopher Walker and his team treat patients from Alamo Heights, Terrell Heights, Olmos Park, The Dominion, & Downtown San Antonio. Specializing in dental implants, gum surgery, gummy smile reconstruction, bone grafting, sinus lifts, and botox.