The overgrowth of gingiva (or gums) after orthodontic treatment leads to a lot of unhappy first-looks when the braces come off. Many of our orthodontic partners refer patients to us to restore their patient's smiles and reduce this overgrowth of the gums.
What causes gum overgrowth during braces and other orthodontic treatment?
Swollen gums has a few names:
Gingival enlargement,
Hypertrophy, or
Hyperplasia
But gingival enlargement is a condition mistakenly used synonymously with gingival hypertrophy and gingival hyperplasia.
Gingival Enlargment vs Hyperplasia vs Hypertrophy
Gingival enlargment describes a condition that occurs when the size of the gingiva increases. Gingival hyperplasia typically refers to the increase in the number of cells, whereas gingival hypertrophy deals with the increase in cell size. These microscopic distinctions are both indicative of a disease process.
Gingival enlargement can be induced by three main causes stemming from:
Inflammation,
Medication, and
Systemic disease
Inflammatory Gingival Englarment (aka, braces-induced!)
Because braces traditionally consist of brackets, rubber bands, and wires, it can be difficult to fully and properly clean all the built-up food and gunk from around your oral hardware. As plaque builds up around your brackets and hard to reach spaces, it is easy for gingivitis to occur. Hence, an inflammatory response by the gums. While it is extremely important to always take good care of your teeth and gums, it's especially important to have extra good oral hygiene if you have braces to avoid the possibility of gingival enlargment.
Hormones can easily affect the gums as well. Boys and girls going through puberty, and pregnant women are generally the hormone + swollen gum target. These hormonal spikes can even cause something called "pregnancy gingivitis." Generally, braces are not put on pregnant women, while kids undergoing puberty may, in fact, be experiencing braces and surging hormones… and so inflamed or irritated gums more so than would be normal with orthodontic treatment.
That's the bad news. The good news is… there is an easy treatment to reverse gingival enlargement.
Laser therapy for overgrown gums after braces and orthodontics treatment.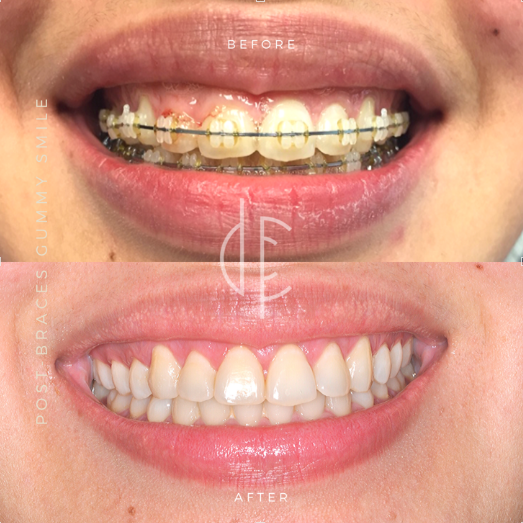 Dr. Christopher Walker uses a specialty dental laser to remove the plaque that is still caught under the gums, on the roots of the teeth. Then he uses the laser to contour the gums so that there are no scalpels or stitches involved.
In most cases a topical anesthetic is sufficient for a pain free procedure. But also for more invasive laser dentistry gum treatments, they can be performed at our office under local anesthetic. Dr. Christopher Walker administers the local anesthetic with an injection that numbs the treatment area. Generally laser dentistry gum treatments have little to no pos-toperative discomfort, minimal pain during and following treatment, and a short healing time.
Patients leave here with minimal down time and swelling and can see immediate results after receiving laser treatment to remove overgrown gums after braces and orthodontic treatment.
Are you experiencing the overgrowth of your gums during orthodontic treatment? Or do you feel like your teeth appear shorter than other people teeth? We can help with that. Call us for a complementary consultation (210) 595-1547