GIVEAWAY ALERT! Fix your Gummy Smile – for FREE!
We're giving away a Gummy Smile makeover to one lucky winner! From Sept 15 – Oct 15 we're accepting photos of your smile. If chosen, the winner will receive aesthetic crown lengthening treatment (a $1,900 value) to transform their smile.
How to enter:
Email a photo of your smile to [email protected]
Include your contact information so we can reach you
Follow us on social media to make sure you're in the loop about the contest
Make sure the photo is of good quality, and teeth are showing.
What's the catch?
Nothing! This is our way of giving back to the community that we live and work in. This giveaway is, however, limited to "gummy smile" procedures only, aka, aesthetic crown lengthening. Which is why you'll need to send us a picture of your smile.
What is a "Gummy Smile?"
A gummy smile is when you look in the mirror & feel like your show too much gums when you smile, or if you feel you have "long gums." While there is nothing medically wrong with the gums, patients often choose to undergo non-invasive "crown lengthening" to feel more confident when they smile.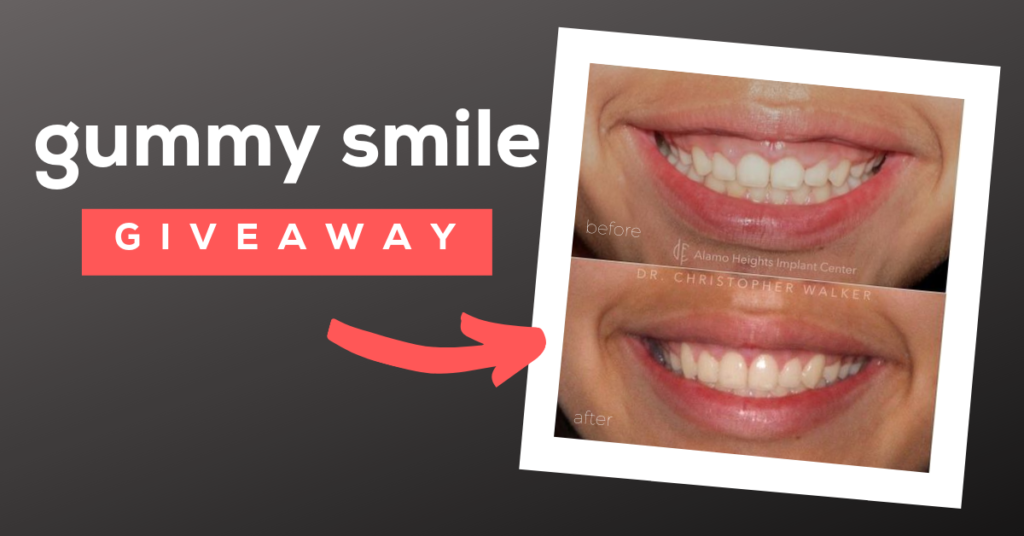 Alamo Heights Implant Center is located in Alamo Heights, San Antonio, TX 78209. Dr. Christopher Walker and his team treat patients from Alamo Heights, Terrell Heights, Olmos Park, The Dominion, & Downtown San Antonio. Specializing in dental implants, gum surgery, gummy smile reconstruction, bone grafting, sinus lifts, and botox.